Tips on taking Corporate Headshots
Posted on 10 December 2020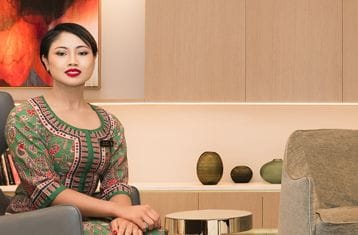 Use Natural or Professional Lighting
As any photographer will tell you, proper lightingis essential to any good image. When it comes to taking portrait photos, you'll want to either have natural light from windows on multiple ends of the room, or a professional lighting setup.
Use a Long Lens
It may seem strange that you would use a long lens to take a photograph, but there are a number of reasons why you should, firstly it flattens the image and you minimize the distortion that you would get with a wider angle, it easily allows you to blur the background which helps the subject stand out and you can do this without getting in the subjects face.
Keep the Backdrop Simple
You want to keep the backdrop simple so that it does not distract from the person. A good photograph will naturally cause the viewers eye to the person not the background.
Dress How You Would When Meeting a New Client
You should also take care to present yourself in a positive light in terms of the way you dress. Again, this can vary depending on the brand. But a good rule of thumb should be to consider how you'd want to present yourself to a new client and then dress accordingly.
Have Good Posture
No matter what style of photo you end up going for, good posture is essential since it exudes confidence and professionalism. Simply sit with your back straight and your shoulders back while remaining relatively relaxed.
Loosen Up
However, you don't need to look completely stiff and boring in your headshot. Especially if you want your brand to seem fun and unique, it may be beneficial for you to keep the atmosphere at your photo shoot loose. Then you can take some images where you have a very natural smile and show some of your authentic personality.
Bring a Friend
One way to ensure that you're able to relax and show off your real personality could be to bring a friend or co-worker who you're close with so that they can make jokes, keep you loose and even let you know if you need to sit up straighter or change up your smile.
Get Shots in Your Natural Environment
Another strategy could be to have your photographer meet you at your office or another location where you're especially comfortable. Getting some images where you actually work could help them appear especially unique and authentic to your brand.
Look after yourself
In order to have a fresh and happy face in your photos, you need to take care of yourself. Get a full nights sleep the night before to avoid dark under-eye circles and other features that can lead to you looking tired and uninspired in your photos.
Get Multiple Shots
No matter what style of photo you're going for, you'll want to have plenty of options to choose from at the end. Even if you're sure of the style, angle and backdrop for the photo, you should at least have a horizontal and vertical version so that it can fit with different mediums and publications. So make sure you set aside enough time to get enough good shots.
Hire a Professional
Another absolute must for a great headshot, a professional photographer can help you turn your headshot vision into a reality. It might be tempting to save a few bucks by simply having a friend snap a photo on your phone, but the quality of a professional image will show and help your brand make a positive impression.
Research Their Style
When you're looking for a photographer to shoot your headshots, don't just go with the first one you come across. Instead, take a look at the portfolios of a few different options and contact the ones who have a style you'd like to emulate in your own images.
Get to Know Them
It's also a good idea to get comfortable with your photographer so you can look happy and relaxed in your photos. So have a friendly conversation with them, ask them questions and be yourself when you go to meet with them.
Get New Headshots Regularly
Finally, once you get your business headshots taken, you might find that they no longer represent your brand in the way you envisioned after a couple of years. So it's a good idea to have new business headshots taken regularly to reflect how you actually look and how you want your brand represented throughout the life of your business.
If you want more information about taking good head shoots, check out this below link.